---

Shaklee Glucose Regulation Complex* is a unique blend of scientifically supported ingredients that keep blood sugar levels steady and promote efficient glucose utilization*


Information About Shaklee Glucose Regulation Complex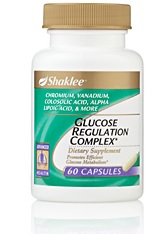 Shaklee Glucose Regulation Complex provides natural support for normal glucose (blood sugar) metabolism. It helps the body transport glucose into cells, making your system more efficient and effective at making use of blood sugar, and helping you retain normal blood sugar levels.*

This unique and proprietary combination of nutrients also contains Alpha Lipoic Acid. Studies have shown Alpha Lipoic Acid to be a powerful antioxidant that enhances the effect of vitamins C, and E. This creates a more efficient antioxidant activity in, and use by, the body.*

THE PROBLEM - HIGH LEVELS OF BLOOD SUGAR (GLUCOSE)

The number of people who cope with high levels of blood sugar has been increasing rapidly in all age groups, over the last few years. The incidence among people in their 30's has jumped 70% in the past decade alone. An estimated 16 million Americans—including at least 300,000 children—have seriously high levels of glucose in their blood.

The passage of glucose from the blood into the cells, which helps produce energy, is normally directed by the hormone insulin. In a healthy individual, insulin attaches to special receptors on the surface of cells, signaling the cell walls to open so that the glucose can enter. Once inside the cell, glucose can be stored or burned for energy.

If, however, insulin doesn't work as the door opener, high levels of the blood sugar, glucose, and insulin remain in the blood. Cells may not have enough stored energy for normal functions, and, additionally the extra glucose may get stored as fat.

Maintaining a normal blood sugar level is an important part of controlling long-term health.

It has been estimated that one in four Americans, approximately 70 million people, could benefit from dietary support to help the body make efficient use of the insulin it already produces.

SHAKLEE GLUCOSE REGULATION COMPLEX*:

Glucose Regulation Complex provides a unique blend of specific scientifically supported minerals, a botanical, and antioxidants that can help promote normal blood sugar levels.*
Helps promote efficient glucose utilization.* Magnesium, chromium, zinc and vanadium support the body's ability to process glucose.*


Aids in normal glucose transport into cells and normal responsiveness of cells to insulin.* Banaba leaf extract and the minerals magnesium and chromium promote efficient transport of glucose from the blood into cells, promoting normal blood glucose levels.*


Uses three powerful antioxidants, alpha lipoic acid, zinc, and taurine, also contained in Shaklee Glucose Regulation Complex, to help protect the integrity of cells so they can respond normally to insulin.*


Helps sustain energy and prevent blood sugar crashes that can lead to carbohydrate cravings.* When taken as part of a healthful, high-fiber diet, chromium and banaba leaf extract can help stave off blood sugar crashes that can lead to feelings of low energy, hunger, carbohydrate cravings, and between-meal snacking.*


Provides antioxidant protection and helps to recycle vitamins C and E for additional antioxidant activity.* Alpha lipoic acid is a powerful antioxidant in itself, but it also helps recharge the antioxidant protection of vitamins C and E.* Zinc and chromium also have significant effects on oxidative stress.
WHO WILL BENEFIT FROM SHAKLEE GLUCOSE REGULATION COMPLEX*?
Adult men and women who are concerned about maintaining optimal blood sugar levels
Anyone making lifestyle changes to help maintain long-term health
HOW SHOULD SHAKLEE GLUCOSE REGULATION COMPLEX* BE USED?

Simply take two capsules daily with a meal.

Do not take on an empty stomach.

Caution: Do not use this product if you are hypoglycemic. Consult your physician if you have diabetes or are pregnant or nursing. This product is not intended for use by children under age 12.

WHAT'S CONTAINED IN SHAKLEE GLUCOSE REGULATION COMPLEX*?

SCIENTIFIC SUPPORT FOR THE INGREDIENTS IN SHAKLEE GLUCOSE REGULATION COMPLEX*:
Banaba leaf extract/colosolic acid (Langerstroemia speciosa) In laboratory studies, colosolic acid was shown to stimulate glucose uptake. In a series of small studies, an extract standardized to 1% colosolic acid was found to help maintain normal blood glucose levels.


Chromium is an essential mineral required for normal insulin function. Several studies have found that chromium supplements can support carbohydrate metabolism and blood glucose control. Chromium has been shown to lower oxidative stress.


Magnesium A large population study found that women consuming the highest amounts of magnesium had the greatest likelihood of maintaining normal blood sugar levels.


Vanadium may be involved in the regulation of insulin function and the maintenance of normal blood glucose levels.


Zinc may help insulin bind properly to insulin receptors on cell walls and plays an important role in insulin production and secretion. Zinc is also a component of the antioxidant enzyme superoxide dismutase, giving it a role in combating oxidative stress. Zinc and chromium each has a significant effect on oxidative stress, but the combination of the two minerals has been shown to be more effective than each alone.


Taurine The amino acid taurine has been clinically investigated for a potential role in the control of blood sugar levels. Taurine helps stabilize cell membranes and appears to have free radical scavenging activity. Taurine has also been shown to support normal platelet function.


Alpha lipoic acid Experimental studies suggest that alpha lipoic acid may also play a role in glucose transport, in addition to its role in antioxidant protection.
WHY CHOOSE SHAKLEE GLUCOSE REGULATION COMPLEX*?

It is a unique and natural approach to regulating blood sugar levels by making your own system more efficient and effective at making use of blood glucose*
Unique combination of natural ingredients to help maintain cell responsiveness to insulin*
Supports efficient insulin function, thereby helping to maintain long-term cardiovascular health and retain normal blood sugar levels*
Combines the best of nature and science
100% Shaklee Guaranteed**
* These statements have not been evaluated by the Food and Drug Administration. This product is not intended to diagnose, treat, cure, or prevent any disease.

** If for any reason a Shaklee product is not satisfactory, return it to your Shaklee Independent Distributor or Shaklee Corporation for exchange or full refund.
SHAKLEE GLUCOSE REGULATION COMPLEX SUPPLEMENT FACTS

Serving Size: 2 capsules
Servings Per Container: 30
Amount Per Serving % Daily Value
Total Carbohydrate <1g <1%**
Magnesium (as magnesium oxide) 200 mg 50%
Zinc (as zinc gluconate) 5 mg 33%
Chromium (as chromium polynicotinate) 400 mcg 333%
Taurine 500 mg †
Vanadium (as vanadium amino acid chelate) 100 mcg †
Alpha Lipoic Acid 10 mg †
Banaba Leaf Extract (Lagerstroemia speciosa) 32 mg †
Standardized to contain 1% colosolic acid

** Percent Daily Values are based on a 2,000 calorie diet.
† Daily Value not established.

Other Ingredients: Maltodextrin in a hard gelatin capsule (Gelatin, Water). For more information about blood sugar management please click on the link title below:

Shaklee Glucose Regulation Complex* is a unique blend of scientifically supported ingredients that keep blood sugar levels steady and promote efficient glucose utilization*
If you need more information about blood glucose regulation you will find a very informative website at natural-health.myshaklee.com.
Shaklee Products | blood sugar management | blood glucose regulation | low blood sugar | blood sugar management product