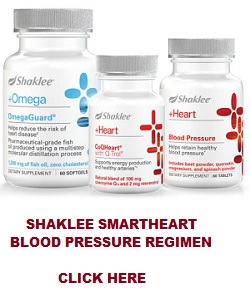 This lower blood pressure regimen from Shaklee is specifically designed to support optimal cardiovascular health and retain healthy blood pressure.

Shaklee SmartHeart Includes:
Blood Pressure: Proprietary blend addresses 2 of the key mechanisms to help retain healthy blood pressure


OmegaGuard®: Ultra-pure, pharmaceutical-grade omega-3s to help reduce the risk of heart disease


CoQHeart®: CoQ10 and resveratrol supports energy production in the heart and promotes healthy arteries
By maintaining already healthy cholesterol and blood pressure levels, with the Shaklee SmartHeart regimen, you can protect your heart for years to come.
reduce risk of heart disease, cardiovascular health, healthy blood pressure Information on "Shaklee SmartHeart for Lower Blood Pressure" has been updated and permanently moved.
For the latest and most complete information on reduce risk of heart disease, cardiovascular health, healthy blood pressure
Go to Shaklee HeartSmart for Lower Blood Pressure