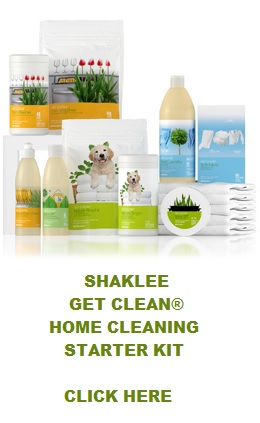 SHAKLEE WAS GREEN BEFORE IT BECAME A "THING"
It's been over 60 years since Shaklee brought out one of the first nontoxic, biodegradable cleaners. Not only that, but Shaklee has become the first company to plant 1 million trees around the world, in partnership with the late Dr. Wangari Maathai, the first Nobel laureate recognized for environmental work.
Since 2016, Shaklee Corporation has partnered with American ForestsŽ to plant for tree for every Shaklee Get CleanŽ Starter Kit sold.
On top of all this, Shaklee has announced its intention to plant 10 million MORE trees over the next 10 years!
Together with Shaklee, You can help save the planet! Join their green initiative today!
TESTIMONIAL
By HELEN T G (Shaklee Distributor) on Mar-15-2021
Get Clean Starter Kit
"When I first converted our home to Shaklee cleaning products my husband did not spend weekends in bed any more, as he had done for years, due to headaches. Seeing how easy it was to work with Shaklee's concentrated cleaners, where all I had to do was add water, kept me out of the highly scented oftentimes toxic cleaning products aisle in the grocery store, not to mention that the Shaklee products were cheaper to use and lasted longer, thus a decrease in carrying heavy items when I did go to the grocery store. Win/Win!"
Would you like to help make the world a cleaner place with environmentally home cleaning products from Shaklee, AND save money with this earth friendly home cleaning starter kit.
organic, cleaning, concentrate, laundry booster, stain remover, dryer sheets, automatic dish washer powder Information on "Shaklee Get CleanŽ Starter Home Cleaning Kit Product" has been updated and permanently moved.
For the latest and most complete information on organic, cleaning, concentrate, laundry booster, stain remover, dryer sheets, automatic dish washer powder
Shaklee Get CleanŽ Starter Home Cleaning Kit Product