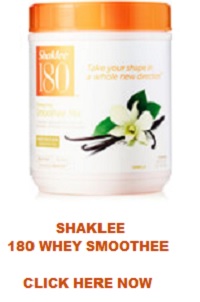 Are you trying to stay fit, exercise regularly, or manage your weight? You might want to consider adding a delicious, bioavailable source of protein to your diet or nutrition program. You don't have to be an Olympic level athlete, bodybuilder, or fashion model to benefit from nutritional supplementation.

Once considered a by-product of various actions involving milk, whey protein is now recognized as a valuable source of protein for those in exercise programs, body builders, and people trying to manage their weight.

While there are many sources of protein, whey protein is considered one of the best because of its ease of absorption of, and use by the body. Shaklee's product also contains leucine to help preserve lean muscle while you increase muscle or lose fat.

A smooth whey and milk smoothie that aids in exercise recovery and weight management. Leucine helps preserve lean muscle, smooth creamy flavor, fills you up to help control appetite.
whey protein, isolates, leucine, lean muscle mass, fitness, weight management
Information on "About Shaklee 180 Whey Smoothee" has been updated and permanently moved.
For the latest and most complete information on whey protein, isolates, leucine, lean muscle mass, fitness, weight management
Go to About Shaklee 180 Whey Smoothee