Do you want to share the gift of health and receive the rewards of financial freedom?
Earn extra income
Live debt free
Spend more time with your family
Earn residual income
Enjoy your work and live a healthier life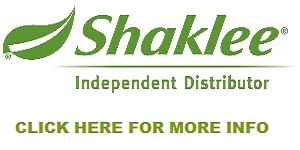 CLICK HERE TO LEARN MORE


We are looking for partners who want to take advantage of the explosive growth of the Health and Wellness industry.

Shaklee helped pioneer this industry, which is predicted to grow to $1 trillion in the next few years. As a 50-year-old company with all the potential of a start-up, we have a proven business model and the backing to take our business around the world.

Click Here to learn more about how you can be part of a leading company poised for extraordinary growth.


Who Is Shaklee?

THE #1 natural nutrition company in the U.S.
Uncompromising in values and standards for over 50 years.
A pioneer of the modern Health and Wellness industry.
Has sold over 500 million products and has paid out over $4 billion in commissions.
Natural Health Products
About the Shaklee Independent Distributor Business Opportunity
Page Updated 3:25 PM Thursday, September 9, 2021