The health benefits of green tea have been know for some time, but it is also great for achieving your weight loss goals. Combining a calorie reduced diet and exercise with the best thermogenic fat burner, Hydroxycut weight loss formula, It helps increase your daily caloric expenditure. Some of the ingreditents are Garcinia Cambogia, Gymnema sylvester, Witharia Somnifera extract root, and rhodiola rosea extract. Increase your daily caloric expenditure and lose weight with this calorie burning formula.
Hydroxycut Ingredients
Every Ingredient on the Label is in the Bottle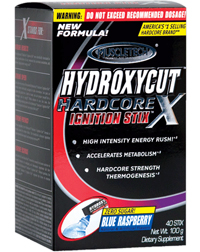 Each ingredient in the Hydroxycut formula was carefully selected and the finished product is made at a high-quality facility in North America. Each ingredient was thoroughly analyzed and tested to ensure Hydroxycut contains ingredients to help you reach your weight-loss goals. Our certificates of analysis guarantee that each ingredient mentioned on the label is actually in the product.
Made in USA
from international and domestic ingredients.

Other Ingredients in the Hydroxycut Weight Loss Formua:

Hydroxypropyl Cellulose, Microcrystalline Cellulose, Polyvinylpyrrolidone, Croscarmellose Sodium (Sodium Chloride, Sodium Glycolate), Vegetable Stearate, Coating (Polyvinyl Alcohol, Titanium Dioxide, Polyethylene Glycol, Talc), Silica, Acesulfame Potassium, Maltodextrin, Propylene Oxide
Directions:
As a dietary supplement, take 2 caplets with an 8 oz glass of water 3 times daily, approximately 30 to 60 minutes before meals (preferably before breakfast, lunch, and dinner). Do not exceed 2 caplets in a 4-hour period and/or 6 caplets in a 24-hour period. Do not take within 5 hours of bedtime. To asses individual tolerance, follow the chart.
Day 1 to Day 3: 1 caplet, 3x daily
Day 4 and beyond: 2 caplets, 3x daily
For best results, use Hydroxycut for 8 weeks in conjunction with a calorie-reduced diet and a regular exercise program. Do not snack after dinner. Consume ten 8 ounce glasses of water per day. Read the entire label before use and follow directions. Caplet shown not actual size.
Warnings:
Not intended for use by persons under 18. Do not use if pregnant or nursing. Consult a medical doctor before use if you have been treated for or diagnosed with, or have a family history of any medical condition including (but not limited to) cardiovascular complications, diabetes, or liver or kidney disease, or if you are using any prescription or over the counter drugs. Do not use if you are using a monoamine oxidase inhibitor (MAOI), selective serotonin reuptake inhibitor (SSRI), or any other product containing ingredients with a known stimulant effect. One serving (2 caplets)of this product contains about as much caffeine as 2 cups of coffee. Do not combine with other sources of caffeine (e.g. tea, caffeine as 2 cups of coffee, or cola beverages). Consult a medical doctor before starting any diet or exercise program. Discontinue use and call a medical doctor immediately if you experience irregular heartbeat, chest pain, dizziness, headache, nausea, or other similar symptoms. Do not exceed recommended serving. Improper use of this product will not improve results and is not advised.
Garcinia Cambogia - A Wonder Ingredient
Hydroxycut uses a standardized source of 60 percent HCA. HCA is the core active ingredient of Garcinia cambogia. The quality of the HCA in Hydroxycut is evident when compared to that of the products of many other companies, whose labels often state that they contain Garcinia cambogia extract, but which usually contain ineffective levels of HCA. The HCA in Hydroxycut is better absorbed by the body than other HCA products due to its 100 percent solubility, and it is low in HCA lactone, a negative form of some other lower quality extracts. Our researchers would not settle for just any ingredient, but as you know, the highest quality typically costs more. The specific form of HCA found in Hydroxycut is as much as 10 times more expensive than other forms of HCA found on the market! This is further indication that each ingredient in Hydroxycut is of the
highest quality.
Green Tea - A Thermogenic Superstar
Green tea has been the subject of some of the most intensive research on herbs and has received an enormous amount of press in the mainstream media for its health benefits. Chief among these is its ability to stimulate thermogenesis, the ability for the body to create heat by burning calories. The green tea extract (containing EGCG and caffeine) in Hydroxycut has been shown in an 8-week study to increase the daily caloric expenditure 158 kcal higher than those who were using a placebo (2410 kcal for those using Hydroxycut vs. 2252 kcal for the placebo group). In other words a combination of two of the many research-proven ingredients in Hydroxycut can actually make you use more calories than you would normally while doing the same daily routine.
One extraordinary subject who consumed key ingredients in Hydroxycut (green tea containing 90 mg of EGCG and a total of 200 mg of caffeine), showed a daily caloric expenditure 232 kcal higher than his daily caloric expenditure when using a placebo (2117 vs.
1885 kcals).
Gymnema sylvestre
Hydroxycut contains Gymnema sylvestre, a herb found in the rainforests of central and southern India. The combination of key ingredients in , including Gymnema sylvestre extract, can help you lose weight when combined with diet and exercise.
This unique combination of ingredients in Hydroxycut:

Garcinia
Gambogia extract standardized to 60 percent (hydroxycitric acid [HCA]
Gymnema sylvestre extract
Chromium Polynicotinate

works synergistically to help you reach your goals. Hydroxycut can help you control your appetite, increase your energy, and burn calories. It just makes sense to include Hydroxycut in your diet and exercise plan.
When you add Hydroxycut to your exercise program, you'll be unleashing your body's full fat burning potential. This will allow you to not only build muscle, but chisel your physique as your burn fat.
The ingredients in
Hydroxycut
were specifically chosen for their ability to burn fat and increase energy, so you can get the most out of your workout and finally get the cut physique you've been after for so long.